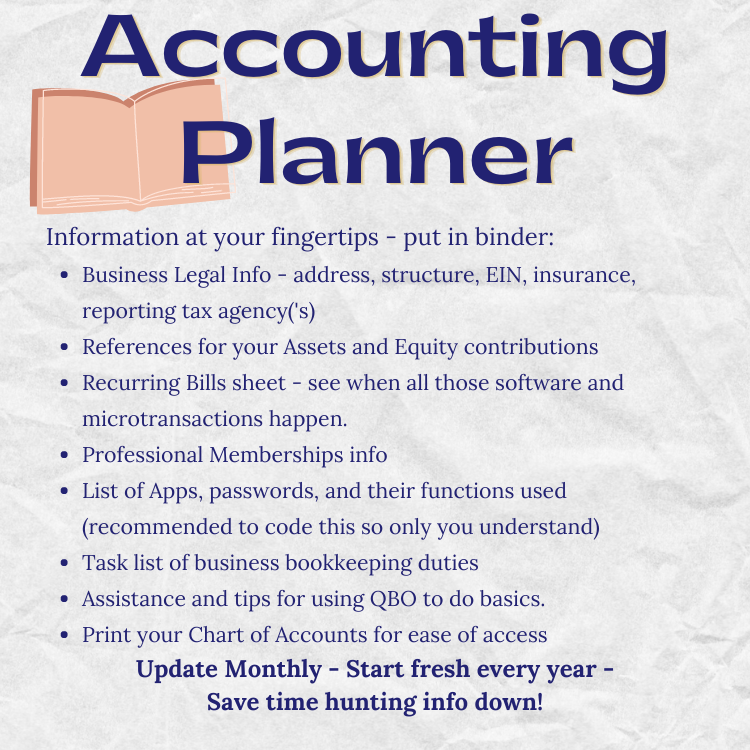 As an entrepreneur, keeping your finances organized for tax time and business growth can seem overwhelming. That's why we created the Small Business Accounting Planner – your key to establishing financial clarity.
This comprehensive, free planner provides critical information and best practices to effectively manage your business's bookkeeping, cash flow, reporting, tax filings and more.
With this planner's guidance, you'll:
Organize all your business details, assets, bills in one place
Learn bookkeeping workflows to properly track income and expenses
Follow checklists for recurring accounting tasks
Gain insights through periodic reporting and reconciliation
Establish procedures to maximize tax deductions and stay compliant
And more!
Built from years of bookkeeping experience, the planner distills complex financial concepts into clear, actionable direction.
Say goodbye to disorganization and confusion. This free resource empowers you to handle accounting with confidence.
The planner contains the following must-have resources:
Business Information Organization
Asset, Liability & Equity Tracking
Billing Overview with Due Dates
Membership & Annual Payment Schedules
Bookkeeping Task Checklists
Software & Tool Descriptions
Accounting Workflow Processes
Inventory Management Procedures
Sales & Invoicing Steps
Monthly & Quarterly Closing Best Practices
Tax Deduction Maximization Tips
We are only making the planner free for a limited time. An expanded version with additional resources is coming soon for purchase.
As one of the first to download the free accounting planner, you'll get financial clarity and tax savings right away. Don't miss out!
Get your free planner today! This won't be available forever.
Get the Free Small Business Accounting Planner Now – Limited Time Offer!